Bozeman Distributors: A Family Business Putting Customers First
By Adia Walker / Published March 2014

C
ompany Overview
For almost a half century, Bozeman Distributors has been providing quality equipment and service to customers within the pressure washing industry in and around the Gulf Coast. With their headquarters located in Baton Rouge, LA, the company manufactures and services car wash equipment, Aqua Pro pressure washers, and custom power wash equipment. They also serve as a supplier and stocking distributor for high pressure pumps, pump equipment, sprayers, and accessories.
Their mission statement, "To provide the highest quality equipment, pressure washers, car wash systems, and components with unsurpassed after-sale technical support and service," is reflected in day-to-day business as well as the overall structure of their services.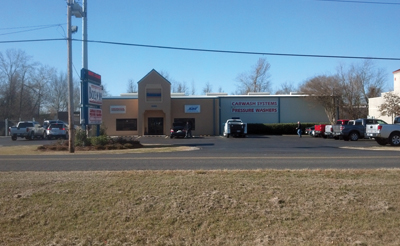 "Customer service is extremely important to us," says Eric Weimer, Co-Owner and President of Bozeman Distributors. "We have a great reputation and that has helped to keep us around for so many years." This reputation brings in a wide variety of clientele seeking not only quality equipment, but also advice, technical support, or replacement parts. "We get complimented all the time on how helpful we are," says Bryan Guillot, Jr., Co-Owner and Service Manager for Bozeman Distributors. "A lot of our sales come from repeat customers who have been completely satisfied with our service and products."
Customer service is not the only area in which Bozeman Distributors excels; for 37 consecutive years, the company has been awarded for Outstanding Achievement in the Sales and Promotion of Cat Pumps. In fact, throughout their history of operation, they have remained the only Authorized Master Distributor for Cat Pumps in Louisiana and Mississippi. Today, they have grown to be one of the top stocking distributors worldwide for Cat Pumps.
The partnership between Cat Pumps and Bozeman Distributors goes back to the company's creation in the late 1960s and has remained an important part of their business to this day. Over the years, the company has grown and expanded their sales inventory to encompass a wide variety of name brand equipment, including the recent addition of AUTEC car wash equipment. Continuing their tradition of excellence, Bozeman Distributors has received awards as a top distributor for AUTEC for three years in a row.
Company History
In 1968, a gentleman by the name of R.D. Bozeman founded Bozeman Distributors, then a small company that specialized in the manufacturing of self-serve car wash equipment and portable pressure washers, as well as the distribution of high pressure pumps and accessories.
One of the company's earliest customers was a businessman and car wash owner named Bryan Guillot, Sr., who, in 1977, bought the company from Bozeman. The company retained its name and went on to trademark its own line of power wash equipment, Aqua Pro, in the late 1970s.
In the 1980s, Bozeman Distributors extended its clientele by adding Touchless Automatic Car Wash equipment to their inventory. The company continued to develop over the years, providing continual upgrades to their manufacturing systems that enabled them to provide their customers with modern and efficient equipment. As a leading manufacturer in the industry, Bozeman Distributors was the first self serve car wash manufacturer to incorporate a brush system into the equipment, and the first to offer stainless steel coin meter boxes.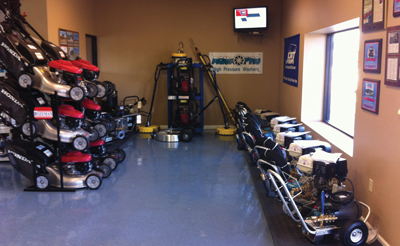 As the company entered the 21st century, it continued to experience steady growth and expansion. In 2003, Guillot Sr. retired and sold the business to his son-in-law, Weimer, and two sons, Bryan Jr. and Keith. In 2007, the three co-owners decided to take on AUTEC car wash and glass building equipment. "That decision has been extremely successful for our business in both Louisiana and Mississippi," says Weimer.
Throughout its history, Bozeman Distributors has worked hard to maintain a reputation for manufacturing and using the highest quality parts and equipment. Utilizing top brands such as AUTEC, Aqua Pro, Cat Pumps, and Honda, is a key element of this reputation.
"We've been selling Cat Pumps since 1968, and we now carry 10–12 different pump lines," Weimer says. "We exclusively use Cat Pumps on the standard models of pressure washers we manufacture and have been one of the largest stocking distributors of Cat Pumps for a very long time. They are an extremely reliable pump; we sell them nationwide."
Distributing Honda products is also an important part of the company's evolving history. Last year, Bozeman Distributors added Honda Lawn and Garden equipment to its existing portfolio of Honda items, which includes generators, portable power systems, and pumps.
Bozeman Distributors Today
Bozeman Distributors & Aqua Pro Manufacturing now occupies a 10,000 sq. ft. office and manufacturing facility in Baton Rouge, LA. The Aqua Pro line includes a wide variety of standard models featuring Cat Pumps and Honda GX Series engines. Custom units, including other pumps and engine manufacturers, are available upon request. Aqua Pro power wash and pump equipment is used in many demanding applications worldwide, from high pressure cleaning and sanitation to high pressure misting and water purification.
A recent renovation at the Baton Rouge location created an impressive display area that enhances the customer's experience. "In 2011, we upgraded our facility by expanding the showroom to display new equipment," says Guillot. "We have a wide variety of items on display, including portable pressure washers, Honda generators, and power washing accessories."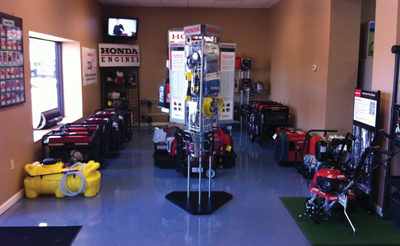 The company refers to this area as the "walk-in trade" and utilizes the room as a way to provide customers with tangible answers to any questions they may have. "People come in all the time for technical support, advice, or replacement parts," says Guillot. "Our sales team on the floor are always there to help answer any questions and to provide tips about safe operation."
"We are very customer service oriented," says Weimer. "We have a huge clientele that includes homeowners, professional power washers, car wash owners, industrial plants, and more. You will find Aqua Pro power wash equipment with Cat Pumps and Honda engines or Baldor electric motors in many demanding industries, such as offshore drilling, saturation diving, petrochemical, marine, pulp and paper, power generation, food processing, and general industry."
At Bozeman Distributors, every customer receives five-star treatment, whether they are part of an industrial company interested in making a large purchase, or an average homeowner in need of some guidance. "There are a lot of people out there who buy pressure washing equipment from the big box stores and don't have the knowledge of how to operate it properly," says Guillot. "They come into our facility with questions about replacement parts, accessories, or general maintenance because they can't get the individual attention at the big box stores that we provide."
The superior sales team on the floor at Bozeman Distributors takes the time to really talk to each customer, explaining the horsepower and operating power details of the pressure washing equipment they are inquiring about. "I can see it on their faces, how much this means to our customers," says Guillot. "We believe if we keep providing this type of personal service, we will continue to grow and expand moving forward."
Individuals visiting the facility are not the only ones who receive the high-quality service that Bozeman Distributors has become so well known for; the company's road crews also uphold these ideals. Traveling an area that spans from east Texas to the Mississippi/Alabama boarder, these teams of highly skilled professionals install and service car wash equipment manufactured and sold by Bozeman Distributors. "We provide warranty and in-house repairs for everything that we sell," says Weimer. This helps customers with peace of mind, whether they bought it in store or online.
"Another great part of our service is we drop ship packages to customers who can't get to us," says Guillot. "A service that really helped our car wash department grow was offering free delivery on all of our chemical solutions to our car wash customers."
Bozeman Distributors: The People behind the Name
Bozeman Distributors employs 21 individuals in three main departments: in-house sales, in-house service technicians, and road technicians. With an impressive, combined total of more than 150 years of experience in sales and technical experience within the pressure washing industry, the company's employees are vital to customer satisfaction and overall company success.
"Our in-house salesmen do an excellent job at both phone and counter sales," says Guillot. "Our main in house salesmen are Ed Kron, Paul Ponsano, Scotty Cabalerro, and Ross Weimer. Eric Weimer and I do a lot of sales too. We also have exceptional service technicians who work in the warehouse doing in-house repairs and assembly of new equipment. Chris Nezat is our shop foreman and his assistants are Lawson Webb, Josh Bruner, and Shannon Diamond."
"The road crews are also a very important part of our company," continues Guillot. "Chris Jarreau is our lead technician and his lead assistant is Anthony Bergeron. Other assistants are Oscar Murga, Tommy Elliott, Steve Beech, and Zack Roettger." Two more valuable assets to the team include Rob Wilson, the company's purchasing agent, and Glenn Faucheaux, in charge of shipping and receiving.
The three co-owners are also in-volved in many facets of the business. Keith Guillot is in charge of inventory control; Bryan Guillot, Jr. oversees all new installations/servicing of automatic car wash equipment, and supervises in-house shop repair/assembly of new equipment; Eric Weimer oversees the finances and spends a lot of time working in the field, meeting customers, creating car wash packages/quotes for prospective clients, and closing car wash deals.
Though the former owner, Bryan Guillot, Sr. retired a decade ago, he is still around today, attending many annual tradeshows within the industry. "We've worked hard to keep it going, but really we owe all this to him," says Guillot. "This is a family business," says Weimer. The addition of his son, Ross, to the sales team last year brought a third generation into the company. "We've all grown up in the industry," says Guillot. "My father, Bryan Sr., built his first car wash in 1969, and we've been working in the industry ever since." "We were all involved in the car wash industry before we came together to work for my father-in-law, Bryan Sr.," says Weimer.
To give back to the industry that has been a part of their lives since childhood, Guillot and Weimer are members of many trade associations, including CETA, the International Car Wash Association, and the Southeast Car Wash Association. They attend numerous annual trade shows for a wide variety of industries including pressure washing, car washing, home and garden, oil fields, national auto dealers, Honda, and more.
These tradeshows are a way for the family members within Bozeman Distributors to connect with a larger "family" within the pressure washing and related industries. It also helps them gain valuable insight and connections that can be brought home to benefit the driving force of their company: their customers.