Regional Profile
Atlantic Canada: The Land of Lighthouses
By Terri Perrin / Published August 2019

Our regional profile journey across Canada in the past few issues of Cleaner Times has taken us a distance of more than 3,330 miles. We started at the shores of British Columbia and traveled east across the Prairie provinces of Alberta, Saskatchewan, and Manitoba; then through Ontario and Quebec. We have now reached the border of the province of New Brunswick—the gateway to Atlantic Canada.
There is often confusion as to whether this region should be referred to as "The Maritimes" or "Atlantic Canada," but the explanation is simple. The word "maritime" is an adjective that simply means "of the sea"; thus, any land associated with the sea can be considered a maritime state
or province. Nonetheless, when it comes to describing Canada, the term "Maritimes" has historically been collectively applied to the provinces of New Brunswick (NB), Nova Scotia (NS), and Prince Edward Island (PEI). When you include Newfoundland & Labrador (NL), it becomes Atlantic Canada.
If you were to cut up a map of the four Atlantic provinces and drop them like a jigsaw puzzle over a map of the USA, they would cover an area
roughly the size of Oklahoma and Texas (minus a vast expanse of saltwater).
And speaking of maps, when one looks at the province of Newfoundland and Labrador, it can be a little visually confusing. The large island of Newfoundland is separated from the mainland area called Labrador by the Gulf of St. Lawrence. Because of this, one might think they would be independent provinces, but that's not the case. While they look separate on a map, they are considered to be a single province. Similarly, the province of Nova Scotia and the adjacent Cape Breton Island may look like they have the potential to be separate, but it is just one province. Neither Labrador (with only 30,000 residents) nor Cape Breton Island (population 132,000) have enough people to qualify as a province on their own.
The combined total population in the Atlantic region is only 2.4 million. While sparsely populated, it is rich in history. The Maritimes were the second area in Canada to be settled by Europeans after Newfoundland. Those who live here enjoy a more relaxed lifestyle and relish the advantages of living in a region that is world-renowned for its natural beauty.
To enter Atlantic Canada from the USA by land, you would need to travel through the state of Maine, which shares a 611-mile border with the Canadian provinces of Quebec and New Brunswick and has 24 land border crossings. Otherwise, travel to the rest of Atlantic Canada from the USA must be by air or ferry. That said, you can also travel from NB to PEI by bridge! The Confederation Bridge, completed in 1997, is the longest bridge in the world crossing ice-covered water. The toll bridge spans an eight-mile stretch of the Northumberland Strait connecting Borden-Carleton, PEI, to Cape Jourimain, NB. The bridge and highway provide access to the state of Maine and allow the province of NB to be a gateway to export to the USA.
The Pressure Washing Perspective
Jeff Roy is owner of Fern Rob Car Wash & Pressure Cleaning Systems in Miramichi, NB. This is the largest city in the northern part of NB, with a population of 18,000. Fern Rob is the Hotsy dealer for NB and PEI, and they occasionally ship to NL. Another dealer covers NS.
Roy has worked in the pressure cleaning industry since 2011 and spent time working in Western Canada, where extensive travel was required. "I got tired of all of that driving pretty quickly!" he exclaims.
Roy purchased Fern Rob Pressure Cleaning Systems in December 2018, and he is happy to put down roots in Atlantic Canada. Yes, the overall population is lower, as compared to the rest of Canada, and his customers are spread geographically far apart, but he likes the fact that he can sleep in his own bed … at least a couple of nights a week.
"There is very little heavy industry in Atlantic Canada, so business owners have to be creative when looking for opportunities for the pressure washing industry here," explains Roy. "Contractors have to work year-round, even if that means just using pressure washers to thaw things out. Like any region in North America, where winter, snow, cold, and messy roads are the norm, transport trucks and heavy equipment still need to be washed. The difference is that much of this work is done in indoor bays, so providing equipment, installation, and servicing for wash bays is lucrative. It is important to keep trucks clean because there is the likelihood of corrosion from both the salt on the roads and in the ocean air."
Easy-Kleen Pressure Systems Ltd. is an outstanding example of an Atlantic Canada-based company that has not only survived but thrived in Canada's most Eastern region. According to Easy-Kleen president, Brad Howland, the family-owned business started in 1982. Fast forward to 2019, and they now manufacture hot and cold water pressure systems for distribution in 16 countries. They are one of the main employers in their small town of about 4,500 people. They employ 120 people Canada-wide, with one factory and two sales and service facilities in AB, two in ON, and one in NS, in addition to the main factory and head office based in Sussex, NB.
"I am proud to say that we have grown to become the largest manufacturer of hot water units in Canada, building about 8,000 units a year," states Howland. "That's about 10 times the amount made by any of our competitors."
Howland has virtually grown up in the pressure cleaning business, starting at the age of 17 working with his father and company founder, Fred Howland.
"Now, bear in mind that this was long before the Internet and all the advantages that computers offer for sales and marketing," recalls Howland. "We traveled and sold machines door to door. Doing so, and seeing all of these industries evolving, we developed our product line to address all of these cleaning niches, and we developed our line to be very diverse. We originally sold Hotsy and Hurst Blue Boys' farm equipment power washers, and we eventually started to manufacture our own line of Easy-Kleen products based on our experience and market demand.
"With all Atlantic provinces being located on the sea and in order to better serve the needs of this market, we had to manufacture all of our equipment with thicker metal to avoid rust-out from ocean salt spray. Stainless steel is also utilized, for more resource-based heavier duty use. And our frames are welded, not just bolted together."
When asked why the Howland family choose to build their business in Atlantic Canada, the answer was simple: "We started here because we live here," states Howland. "Other regions in Canada may have offered better opportunities, but we like it here, so this is where we built our business. It is home."
Howland adds that what he loves about Atlantic Canada is that they experience four distinct and uniquely beautiful seasons. "When it comes to weather, we get a little bit of everything," he says. "It is an absolutely beautiful area with diverse terrain from one side of our province to the other. The quality of life is very high, and the cost of living is relatively low. A nice home can be bought for $150,000. This also means lower overhead for our manufacturing facility. We have an 80,000-square-foot building and will be adding another 45,000 square feet of space later this year. Land doesn't cost an arm and a leg to buy; we have 14 acres. In the big metro centers, we couldn't afford to buy it! It makes a big difference for our competitive advantage, too."
Both Howland and Roy agree that the facts that the population is sparse and spread out over a larger geographic region—much of which is separated by water—are the biggest challenges facing any business in Atlantic Canada, but especially the pressure cleaning business. Add to that that there has also been a reduction in many industries. The number of pulp mills in NB alone, for example, has dropped from eight to only four. There used to be hundreds of fish factories, but now there are only a few. It's the same with the forestry industry.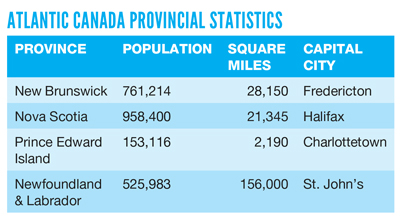 "Corporate amalgamation has changed the face of business and industry overall," adds Howland. "Larger corporations are now the norm, so there are fewer customers in each community. It changes the business atmosphere because you don't get to know your customers as well."
What might surprise people about being a service provider in Atlantic Canada is how adaptive and mobile you need to be! "Our technician could be in the shop in Sussex in the morning and be flown into a mine in Labrador that afternoon to fix a pump," concludes Howland. "Flying out to the northern regions to do service work is not for the faint at heart. You have to be really tough to slug it out."
Fun Facts About the Atlantic Provinces
New Brunswick
Despite having an extensive coastline, NB's

industrial sector has never been entirely reliant on

the success of the fisheries. Likewise, the strong shipbuilding heritage of the province directly relates to its forest resources. Because of this, NB tends to attribute their cultural heritage less to the sea and more to their forests and rivers.

Agriculture and forestry are two prominent industries.
NB's French population plays a significant role in the everyday cultural experience. Being the only officially bilingual province in Canada, many of New Brunswick's inhabitants speak both French and English, especially in Moncton and the capital region of Fredericton.
There are more than 60 covered bridges in the province.
Highest, wildest tides in the world.
Warmest saltwater beaches north of Virginia.
Prince Edward Island
Lays claim to be Canada's smallest and most densely populated province, most cultivated, most ribboned with roads, and most bereft of original wilderness.
Tourism is vital to the economy of PEI. The book, Anne of Green Gables, was written and set in PEI. Every year, families flock to PEI to see where the beloved story was based, and in the summers, to enjoy the many beaches.
PEI is famous for its potatoes!
Canada's smallest provincial capital—Charlottetown—has a population of 33,000.
Nova Scotia
Nova Scotia typifies Atlantic Canada, with a dramatic, 4,635-mile-long coastline notched with innumerable coves and bays, holding scores of picturesque fishing villages. It would be easy to spend an entire vacation exploring Nova Scotia yet still leave feeling you hadn't seen everything.
Almost 30 percent of the population is of Scottish descent.
Located nearly halfway between the North Pole and the Equator.
Sable Island, 109 miles from mainland Nova Scotia, has five year-round residents, although its population swells in the summer.
No point in Nova Scotia is more than 35 miles from the sea.
Declared the Nova Scotia duck tolling retriever as their "provincial dog" in 1980.
Newfoundland & Labrador
The Maritimes share a kindred climate, history, and lineage, but Newfoundland is different. About half of the island is boreal forest, while much of the rest is rocky, barren, or boggy.
In addition to the main island, Newfoundland includes more than 7,000 other small islands.
It boasts one of the lowest crime rates across North America.
It is where the popular Labrador retriever and Newfoundland dogs originated.