Arthur Products Co.: Listen to Your Customers
By Diane M. Calabrese / Published November 2015

Fewer than 20 miles south of Lake Erie lies Medina, OH, the seat of Medina County. Akron, the town where B.F. Goodrich established the first rubber factory in 1870, lies 18 miles to the southeast of Medina.
The northeast region of the Buckeye State has long been an integral part of industry and invention in our nation. Among the innovative firms located there is Arthur Products Co., which has been part of the Medina community since just after World War II.
Since January 1, 2006, Arthur Products has been held by LSQ Manufacturing Co., which is owned by Richard Rauckhorst and Judy Coffman. Members of our industry know Arthur Products well for the nozzles and accessories it produces for industrial and sewer cleaning. Its other major product line, vent tubes, dates to the inception of the business.
Brothers Al Abramoska and Paul Abramoska established Arthur Products in 1946 to manufacture vent tubes for the bottling industry. Putting their experience as machinists and designers to work, they became manufacturing suppliers not only to the bottling industry, but also to the government, the industrial cleaning industry, and the emerging nuclear power industry.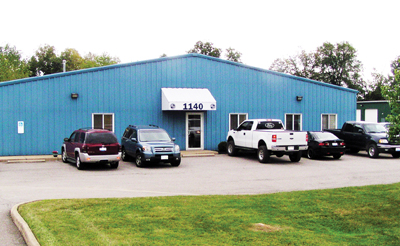 The Abramoska brothers sold their company to an investment group in the mid-1960s, and it was during the 1960s that Arthur Products began to design and manufacture nozzles. Blue Creek Acquisitions (Alan Zaleski, president) purchased Arthur Products in 1997 and eventually built a new manufacturing facility for the company at its present location, 1140 Industrial Parkway in Medina.
Judy Coffman recalls that she and Richard Rauckhorst had a particularly nice surprise soon after they took over Arthur Products. "As the new owners, we were delighted to host a visit by Al Abramoska—then in his mid-90s—at the Arthur Products Co.," she explains. 
When Coffman and Rauckhorst acquired Arthur Products Co. (APC), they brought with them a combined experience of 48 years in manufacturing and business. Rauckhorst had extensive manufacturing and engineering experience and was serving as a director of engineering in research and development. Coffman's experience was in materials management, manufacturing accounting, and production planning.
"Richard and I became acquainted when we were both working in senior management for an aerospace company," says Coffman. "We found that we had a common goal to own our business. Teaming up to find a business seemed to be a good fit. Through a contact in the aerospace industry, we learned that a small niche business in Medina, OH might be for sale. The business was Arthur Products Co."
Dedicated Team
The team at Arthur Products numbers seven. Flexibility guides the approach to operations. "Our employees each have their areas of expertise," says Coffman. "However, they all also have abilities that allow them to work where they are needed on any given day. We are a small business in every sense of the word and have a flexible workforce that accomplishes the tasks at hand."
Coffman explains that she and Rauckhorst have a philosophy that derives from basic, core elemental values and sound principles of business. The guiding philosophy encapsulates well the sentiment of strong, small business owners across the nation; and so, we have set it apart. (See sidebar.)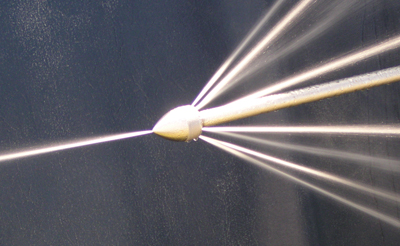 "APC works with all customers on an individual basis forming somewhat of a partnership," says Coffman. "Each customer has their own special requirements, and APC works with each customer to achieve or surpass those requirements. APC provides the conduit from a blank nozzle to a specifically configured nozzle to achieve the customer's objective."
Whenever custom design is needed, APC is ready to listen, understand, and provide a solution. For example, one customer needed a nozzle that would allow vertical cleaning over a long distance. "The customer was trying to use a nozzle with an eye bolt mechanically attached," explains Coffman. "The problem was that the mechanical attachment failed, and the cleaning objective could not be met."
With an understanding of the problem and the objective, the team at APC went to work to provide a solution. "APC designed and manufactured a nozzle, which integrated a towing attachment point as a part of the nozzle," says Coffman. "This design eliminated the inherent weakness of a mechanical attachment." The solution became the APC tow hook nozzle. The customer was able to complete the job and has continued to depend on APC for products.
End users, distributors, and original equipment manufacturers are all part of the customer base that APC serves. "We interact with each of the customers to determine what the parameters are at the time of order placement," says Coffman. "These conversations provide us with an insight to what issues other customers may also be facing."
By getting out to meet prospective customers, as well as long-standing clients, APC learns even more about what's needed. "APC exhibits at the annual WWETT [Water and Waste-water Equipment, Treatment, and Transport] show, now in Indianapolis," explains Coffman. "This show provides face-to-face interaction with our existing customers and prospective customers."   
APC is a member of the WJTA-IMCA®. "This organization provides a wealth of information through their publications, conferences, and exhibitions," says Coffman.   
Manufacturer First and Foremost
Nearly 70 years after its inception, Arthur Products continues to make quality, precision-manufactured products as it has always done. Its superior quality outcomes are maintained by its tight control over the entire process from design to build.
"APC is a true manufacturer of our products," says Coffman. "APC acquires the raw materials. APC controls its designs. APC manufactures the product while ensuring the highest quality. APC ships the product. All this is done from our Medina, OH location."   
Exacting results in products are not the only benefits that accrue from being able to control the whole process in a single location. "Being the manufacturer provides flexibility to address our customer's needs and allows us to offer customized nozzles and accessories to the marketplace," explains Coffman.
"Each nozzle order, whether it is one nozzle or 1,000 nozzles, is drilled to that customer's specific requirements," says Coffman. "APC does not stock pre-drilled nozzles. Every order is handled on an individual basis, allowing us to meet the customer's unique needs."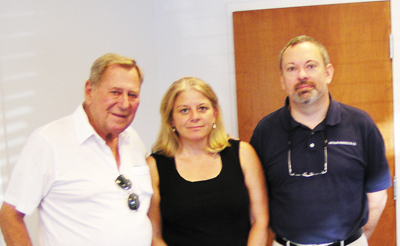 As in all companies, the prevailing level of economic activity can cause unexpected jolts. We all recall 2008 (and 2001 before that). "One of the biggest challenges for us was the downturn in business in late 2008 and 2009," says Coffman. "Our facility is located in an industrial park. During the downturn, we watched businesses closing, and we watched as the business across the street auctioned off all their equipment. During that timeframe, we had to be extra creative with our business decisions in order to maintain our in-house talent. Having two distinct product lines in two separate industries helped us to survive that period of time. Our business philosophy served us well."
There are ongoing challenges, too, of course. One is to be sure that customers have a thorough understanding of best practices in equipment use and assembly. For instance, a jetting nozzle is not just a device on the end of a sewer hose attached to a jetter. "A common myth is that anyone can install any nozzle on the end of any jetter hose and the system will perform as desired," says Coffman. "This could not be farther from the truth. It takes a complete system with all components designed to work together to achieve the desired result."
All APC nozzles are designed for a specific purpose, and to meet that purpose, both the end user and APC must understand the application. "For this reason, we discuss at length with our customers what equipment will be involved, what the job's objective is, and what physical conditions are to be dealt with," says Coffman.
Moreover the discussion of function that will inform design takes place "whether the customer is ordering one nozzle or 100 nozzles," says Coffman. "We go through this process for two reasons. We want to provide the customer with the nozzle that will accomplish the job, and we want to have that customer come back to us again and again."
Educating customers also helps meet another challenge. That is "the infusion of low-quality, low-priced nozzles," says Coffman. "Although a lower priced nozzle can be purchased, that nozzle may or may not meet the desired performance and typically will have a shorter than expected lifespan." 
Strong Past, Present, and Future
In the 1940s, the founders of APC got the company going by using government surplus as starting material. Transforming surplus into products customers needed required numerous machinists and time, as well as ingenuity.
The ingenuity has carried the company to the present. Techniques have changed though. "In the past ten years, we have aggressively worked to automate the design and production of nozzles and hardware using CNC [computerized numeric controls]," says Coffman. "The CNC machining allows for efficient repeatability while maintaining a high standard of quality. We do, however, manually drill each nozzle to order." 
At the same time, there is an inextricable link to the past in machines that girded industry as a whole—and APC—as the machines are retained and tapped for special use. "We also maintain those manual lathes and mills, which allow us to do research and development and prototyping," says Coffman. "This also provides for our employees to practice manual machining skills, which is fast becoming a lost art."
One intriguing product on the APC roster today is the Cnt-r-KUT™ series, which includes the Cnt-r-KUT™ Elite for chain and cable centering. There are also mini versions of the Cnt-r-KUT™ Elite for exceptionally tight spaces.
"The CRK was originally designed as a chain cutter nozzle assembly for jetting equipment with operating parameters that other chain cutter assemblies were known not to operate efficiently," says Coffman. "To accomplish this, a flexible guide vane was developed into the assembly allowing for centering of the rotating head for full 360-degree cleaning within the conduit. Unlike the standard metal 'cage,' the CRK guide vane is manufactured from an elastomer allowing for flexibility and trim ability in the field. Manufacturing guide vanes in this manner allows the end user to adapt to the cleaning application at hand. Also, the CRK is jetted in a manner to maximize the torque in the rotating head allowing the chains to efficiently address the obstacles to be removed from the pipe."    
The Cnt-r-KUT™ concept has evolved into several other configurations to meet our customer's unique requirements. APC has created the CRK Basic, CRK Towing, and CRK Well Pipe Reclamation series. It has also developed a guide vane assembly, which can be attached to a wide variety of nozzles currently on the market.
Necessity really is the mother of invention. And customers offer the best index of what the future holds when they develop a wish list—either on a jobsite or when making a prototype.
"We listen to our customers," says Coffman. "While a customer may order a jetter nozzle or hardware they have been using for years, this customer will also convey to you what they would like to see or need in the field. Development comes from a need and our customer is the company with the need." 
Arthur Products is above all "a customer-oriented company," says Coffman. "Richard and I are extremely lucky to own and be employed by this company. The saying goes, 'If you love what you do, you will never work a day in your life.' We can assure you that this is true." 
Philosophy Of Business

We believe that Arthur Products Co. must:

• Conduct its business in the utmost professional and ethical manner in order to build trust with our fellow employees, suppliers, and customers. 
• Commit to providing our customers with quality service and products. We must deliver the product when our customer wants it and get it right the first time.
• Communicate in a way that enables an open and free flow of information and ideas among our employees, suppliers, and customers, realizing communication is essential.
• Be profitable because it is the primary purpose of any business. Profitability allows us to exist and grow.

Judy Coffman and Richard Rauckhorst