All Jetting Technologies: Providing Economical Alternatives to the Mobile Water Jetting Industry
By Adia Walker / Published September 2014

Over the past several decades, the waterjetting industry has seen steady growth, with many new companies springing up to fill the increasing demand. In this environment, there are many opportunities for businesses that provide mobile waterjetting services to prosper; unfortunately, there are many obstacles that can stand in the way of success as well, such as the expense involved with maintaining the necessary equipment. To help support mobile waterjetting companies throughout the world, All Jetting Technologies, Inc. in Stuart, FL, works hard to offer the industry economical solutions that address the replacement of expensive, consumable parts.
"All Jetting strives to provide our customers with personal service and high-quality, ultra-high pressure (UHP) waterjetting parts and nozzles so they can get their work done on time," says Marianne Watson, President of All Jetting. "We manufacture many UHP parts and specialize in manufacturing high pressure sapphire nozzles. We also manufacture a 4800 rpm rotating jetlance, along with pump parts and high pressure hose couplings. Our parts are manufactured at our facility in Florida, and we take pride that we can ship an order the same day it is placed. We have also been a distributor for Parker Hannifin UHP hoses, Gardner Denver Waterjetting Systems, and Warwick Mills TurtleSkin safety gear for years."
"Our claim to fame is not only that we are a family-owned business but also that we really take care of our customers," says Watson. "When our customers call, they get a person answering the phone—it is rare if they ever reach a messaging system. We know our customer's time is valuable."
Working with a wide variety of companies who use mobile waterjetting throughout the United States and in 34 countries around the globe, Watson has gained a vast amount of knowledge about UHP waterjetting technologies and their many applications. Understanding how the equipment is used helps Watson and her team design, manufacture, and distribute high-quality, cost-effective equipment.
"When surfaces such as asphalt, concrete, or metal need a coating application, the surface must first be prepared," Watson explains. "Water-jetting, over the past 30 years, has become the popular method of preparation for the application of such coatings. UHP waterjetting has replaced sandblasting and jackhammers in coating removals—it is a more environmentally friendly method without damaging the integrity of substructures. Waterjetting is used in many commercial applications, including the maritime and oil industries."
Two other sectors that have seen a rapid increase in the use of waterjetting technology are airport runway maintenance and road work. "The Federal Aviation Administration specifies levels for safe operation of planes; most airports have maintenance scheduled for runway surface removal based on the number of takeoffs and landings that each airport experiences," says Watson. "Waterblasting is also used for most thermoplastic removal in road work. Some states are mandating that only waterjet removal be used on road markings removal, replacing sandblasting and grinding."
"Hydrodemolition is a concrete removal technique, which utilizes high-pressure water to remove deteriorated asphalt and concrete, again eliminating the previous use of jackhammers that could damage substructures," Watson continues. "Other applications for waterjetting include maintenance of heli decks, walkways, and pipes as well as waterjet abrasive cold cutting of tanks, pipes, decks, and other composite materials. Painting and coating applications can continue while water blasting is done in other areas as it is a dust-free process."
All Jetting's customers include local, industrial contractors, shipyard and naval contractors, road and highway work, and the oil industry. According to Watson, these are all demanding industries that require the work be done properly and on time.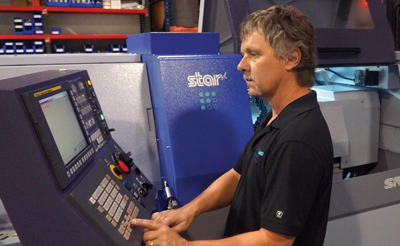 "We know how hard our customers work," says Watson. "Our customers often work seven days a week at all hours. Our company will always try and provide the best service and products to our customers—at fair prices—because we know that will help them finish their jobs on time and be successful. We know the deadlines our customers have, and we do everything possible to get them what they need on time. We know that customer service is ultimate, and helping our customers keep within their budget is why All Jetting continues to grow."
Because All Jetting is a customer-centered, economical alternative in the waterjetting industry, the company receives a lot of referrals from their customers. "Having previously been on the contracting end of the industry for 10 years, we realize that the rigorous demands of the UHP waterjetting industry does not also need the sting of high prices," explains Watson. This personal experience has helped shape All Jetting into the major force that it is today and gives them a distinct understanding of the struggles faced by waterjetting contractors.
"For more than 10 years prior to the formation of All Jetting in 2001, my family owned a surface preparation company in West Palm Beach, FL," Watson says. "The company originally started with 10,000 and 20,000 psi units and then added the power of a 40,000 psi unit. On the contracting side of UHP waterjetting, we could see that the replacement parts for the pumps, hand jetlances, and the UHP hoses were a tremendous expense as the high velocity of waterjetting is wearing on consumables."
"Having spent ten years in the contracting industry, I know what rigorous work is involved in the contracting world," Watson says. "These companies don't always get paid for their jobs right away and yet they have a huge expense budget; this is a very expensive industry." As Watson saw many companies struggle due to the high costs of replacement parts, she came up with a plan to help.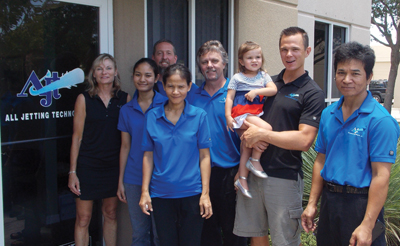 Formed in 2001, All Jetting Technologies, Inc. started working with local machine shops to make the waterjetting consumables such as sapphire nozzles and jetlance parts at more affordable prices. "The company started in my home," recalls Watson, "yes, the proverbial garage, and eventually we expanded to a unit in a flea market when we purchased our own CNC lathes. In 2006, All Jetting purchased a building in an industrial park, where we have continued to grow and add new CNC lathes, laser etching and heat treating equipment, manufacturing equipment, a test waterjetting pump, and inspection equipment."
The facility uses a method known as lean manufacturing, a management philosophy derived from the Toyota Production System (TPS). The idea is to preserve value with less work; the lean manufacturing system that utilizes a physical setup combined with techniques that cut down on waste therefore improving efficiency. "Our quality control is based on this system," says Watson. "We're fortunate we have very experienced CNC operators that have been in the industry for years."
Chuck Hicks was vital to the integration of this production system at All Jetting. Drawing a blueprint of the entire manufacturing process, from receiving the raw materials to packing the final product, was one of the first steps Hicks took when implementing lean manufacturing. "Everything is lined up as it would be used and needed," explains Watson. "The machines are staggered, set up so operators can just turn around when they need to check the machine. This enables two machines to work simultaneously with one operator. I don't personally have a manufacturing background, so I rely on my employees to do their job well. I'm really not a watch guard," Watson says. "We have our quality control procedures, everybody does what they're supposed to, and it's working."
According to Watson, the employees at All Jetting are a crucial part of the company's success and work well together as a team to reach the company's goals. "All Jetting is a family business," she says. "Part owner and Vice President is son-in law Rodney Hardin who is invaluable to the company. He has often traveled to local companies when their equipment was down to help them, and he is always ready to help solve problems over the phone."
"We employ anywhere from 6–12 people depending on the season with four people from the Keokhaw family as loyal employees for years." Watson continues. "Tom Gomez and Chuck Hicks have also been dedicated employees for many years. Tom, Chuck, and Samay are the primary CNC operators, and Chuck designs and blueprints new products. Heng, Cynthia, and Charrvy assemble and inspect the parts. Our outside sales representative is Tom Carr who does a great job covering the Midwest."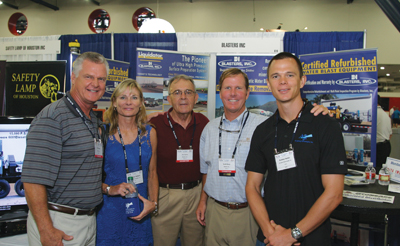 Raising her family in the business has allowed Watson to spend time with her loved ones while growing her company. "My daughters, Jillian and Lila, have grown up with the business and are always ready to assemble parts and help out where needed," says Watson. Our youngest member of the All Jetting family is Rodney and Jillian's daughter, and my granddaughter, Averie, who is two—the shipping bubble wrap is  her favorite part of the company."
The family-friendly company even has a shop mascot—a dog named Mako. "We try and maintain a family atmosphere," says Watson. "We have monthly pizza lunches, birthday celebrations, and holiday lunches where we include members of every employee's family. On any given day, employee's family may drop in; I'm never surprised to see them."
Watson realizes that creating an environment where employees feel that their family life is valued helps develop synergy and maintain a happy workforce. "If it doesn't work for the employees, they're not going to be happy," she says. "We are very fortunate in that nobody has left the company; we still have the same key players and it really feels like a team."
The hard-working team at All Jetting always pitches in to get the job done; Watson explains that since they are a small company, everybody does a little bit of everything, including herself. "There are no straight lines dividing the work; no one ever says 'no, I can't do this. We really have the right employees; there's such good chemistry in our team."
Watson is a key element to fostering this positive energy. She runs the company using two of her personal philosophies: trusting employees to do their jobs, and genuinely caring about employees and customers. "By truly caring about our employees and our customers and vendors, All Jetting has continued to thrive and grow," says Watson. "Many customers send family photos and news—they share their world in full not just their business is important to us. It's nice to get to know something about their lives, not just the orders they place."
Watson really enjoys seeing the family photos her customers send her; she specifically recalls exchanging photos via e-mail with a customer in New Zealand who became a grandmother at the same time as she did. She also enjoys being a part of such a dynamic industry with such potential for future growth.
"I am proud to be involved in the waterjet industry," says Watson. "It is still in its infancy as working pressures increase and equipment becomes more sophisticated. I learn something new every day about the field as it is a complicated and evolving industry. It is fascinating to read about the other aspects of waterjetting—from the cutting of disposable diapers to use in surgical procedures in lower pressures. All Jetting is a corporate member of WJTA–IMCA and attends the annual shows. We find the safety courses and guidelines WJTA–IMCA provides is critical in the industry."
Looking toward the future, Watson says All Jetting will continue to build better products and find solutions to problems people encounter on the job, while keeping prices reasonable. "As I mentioned, this industry is relatively new, and there are a lot of things that are going to be improved upon," Watson says. Helping the industry develop new methods and tools is what All Jetting intends to focus on.