A Rubber Revolution
Innovation in the Modern Hose
By Bob Isbell & Ed Marquardt / Published November 2022

Over the years the professional pressure washing industry has seen several unique innovations. As a result, the equipment has become more powerful, lighter, durable, and versatile. In addition, improvements in technology have assisted in companies becoming more efficient, safer, and ultimately more profitable. 
     Until very recently, one area that had been overlooked from an innovation standpoint was the means of delivering water—invented as far back as 500 BC—to and from the pressure washing equipment. Although the design of the hose was created from cloth for the Roman Empire, rubber was the next significant advancement; but since then, the hose has not changed much. As a result, rubber hoses remain the primary means of effectively moving liquid or material from one source to another and are found in many industries.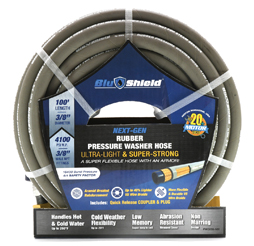 Today, one can find many types of hoses, including hybrids, rubber and PVC, and polyurethane. While these give the industry some options, they have drawbacks as many cannot be used with cold and hot water. 
    An actual rubber hose that can handle cold and hot water gives the professional pressure washer greater versatility, helping them complete their work. The downside is that rubber hoses are heavy, stiff, and difficult to handle. Many rubber pressure washing hoses are reinforced with steel braiding, which makes the hoses even heavier and more challenging to maneuver. The steel braiding will fatigue and break down once the workers start bending, twisting, and coiling the hose. After a while the steel braiding will give way due to the metal fatigue, and the hose will burst and fail. At best, these hoses last a few months. The steel braids exposed from the outer sheathing can create painful cuts and hand injuries. In addition, the exposed steel shards can scratch and cause expensive damage to customer property. 
     Also, lifting a heavy rubber hose or a ladder onto a roof can create a fall hazard. Depending on the size of the project, additional workers may be needed to handle the weight of the hose. The drawbacks to the traditional pressure washing hose significantly outweigh the benefits. 
     Until now the pressure washing industry had few options. Professional pressure washers had to accept that they would need to replace their hoses every few months, risk injury, and potentially damage the customer's property. That is until today! 
     RMX Industries is a global leader in the manufacturing of hoses. RMX has developed two industry best-in-class 100 percent Class A-rubber hoses. This BluShield product line is revolutionizing the industry, with pressure ratings of 3100 psi and 4100 psi. 
     The 3100-psi hose is also super lightweight and flexible. The 3100-psi BluShield hose is polyester braided but has a 4:1 safety burst factor of 12,400 psi. 
     The 4100-psi hose is the only one with an inner core reinforced with Kevlar braiding versus steel braiding. Kevlar is five times stronger than steel and is much lighter in weight, providing exceptional flexibility and easier handling than traditional, steel-braided pressure washing hoses. The Kevlar-braided hose includes a 4:1, 16,400 psi safety burst factor.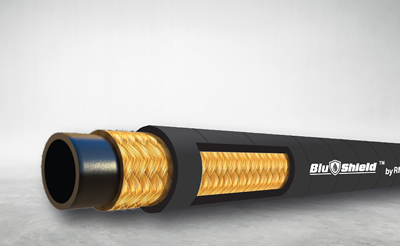 Both BluShield hoses are available in black and non-marking gray and can handle hot water up to 250°F and remain flexible to -20°F. With the improved flexibility, these hoses can easily be added to any hose reel. RMX offers both hoses on retractable metal reels, which they also manufacture. These hoses are backed by an industry-best one-year warranty, giving the BluShield hoses a lower cost of ownership over traditional rubber hoses. 
    Until recently, innovation in hoses has been slow, but with investments in using different materials and manufacturing processes, hoses are improving. As a result, professional pressure washing companies now have a superior option regarding which type of rubber hose will make them more productive, safer, and more efficient.