A New Flow at Atlantic Pressure Washers
By Kathy Danforth / Published July 2019

Atlantic Pressure Washers has been servicing its customers for some 28 years out of Maryland. The established company has been revamping under the leadership of new CEO Angela Hamilton. Atlantic Pressure Washers is owned by Dirt Killer, which has similar ownership as its larger sister company, Hamilton Associates. Hamilton shares, "About four years ago Doug Hamilton, Jr., the former (now retired) head of Hamilton Associates, came to me and said, 'Jeffrey Paulding at Atlantic is going to retire, and I think you should be running this business.'"
Though relatively new to the pressure washing industry, Angela Hamilton worked for Hamilton Associates in the early 2000s as material controls director and handled all the purchasing for Atlantic. After that, she explains, "I worked for Coca Cola and J. J. Haines, a nationwide flooring distributor, mostly in the back office in operations and operational procurement." There's also a personal connection, she points out: "Doug Hamilton, Jr., is my father-in-law, and I'm married to the current Hamilton Associates CEO."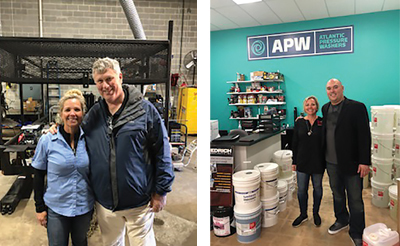 Atlantic Pressure Washers and Hamilton Associates are in different locations, and according to Hamilton, there is not a lot of daily interaction between the companies. "However, there are some shared services, which is a help—a little accounting, human resources, and IT. Dirt Killer owns Atlantic Pressure Washers and is the distribution arm of the company. Dirt Killer is the sole importer for the German-made Kränzle electric pressure washers. Atlantic is a service provider and traditional supplier for commercial pressure washers," says Hamilton. "We carry gas pressure washers, both high and low flow; chemicals; and accessories; and we service them as well.
"We serve two different types of customers—the wholesale/retail business and contractors out on the street," relates Hamilton. "Currently we have one location that we moved into in October of 2018. We were in our prior location for 12 years, but it had grown really long in the tooth and we were running out of room. The business park we were in was very sleepy, and we had little to no foot traffic from folks who weren't already in the know. Our new location is more centrally located to our entire customer base and is right off of the 695 beltway, on Hammonds Ferry Road in Linthicum Heights, MD. The facility has 9600 square feet compared to 7000 in our prior location, and it's brighter,
cleaner, and more state-of-the-art."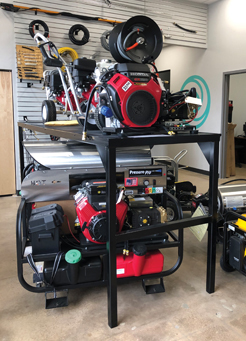 Service has been a key strength of the company, and several improvements have been focused on that function. "We are one of the few companies that services any make of machine regardless of its age or the difficulty of the repair," reports Hamilton. "In the new building, the service area has been upgraded with improved ventilation, water access, and electrical service. The return time for equipment has been reduced from around two weeks to an average of two or three days. This is really important to us. One of our mantras is "the work that we do matters." We know that if a service provider's machine is down, then they aren't working, or their crew isn't working. If they aren't working, they aren't earning. If they aren't earning, they aren't reinvesting in their communities and they aren't feeding their families. So, our goal is to turn things as quickly as possible, but to get it done right!"
To optimize the service area, Hamilton notes, "We took a hard look at what our expectations were for our technicians. We found that along with turning wrenches, they were expected to answer technical calls, to engage with customers when they came in with down machines, and to fill in all over the shop if we were shorthanded. This was really putting a damper on our turn-around times. One of the things we did to combat this was to hire a service coordinator with a strong technical background. Our service coordinator is the first point of contact, and only if he is unable to answer the customer's question do we involve one of our technicians. The service coordinator primarily handles customer service with coordination and scheduling. We have one technician who focuses on installations and large format equipment, and the others focus on small equipment and turning around down equipment as quickly as possible. The technicians are now more purely technicians, not underwriters. They are also much less involved in ordering, receiving parts, and most customer interactions. They are freed up to spend as much time with a wrench as possible. This has significantly increased customer satisfaction and turnaround time. The constant interruptions were detrimental and reduced billable hours, since every interaction meant pulling gloves off and on and later determining, 'Where was I?'"
Hamilton is on a quest to push and expand, and she plans to take everyone with her. She advises, "A rising tide lifts all boats. If we can help our customers grow, then they in turn help us grow. In that vein, Atlantic has been adding more education for customers. "I feel strongly about the expertise and skill level of our employees; we want to educate our technicians and sales staff so they can educate customers. They can help not just with selecting the right equipment but also with other issues tied to success:  What chemicals do they need?  Accessories?  Are they charging enough?  Is maintenance being performed?"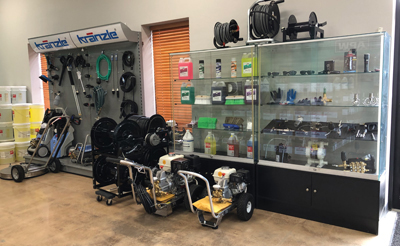 The company's commitment to assisting their customers with training was reflected in the company's recent move. Hamilton shares, "Another great thing that the additional space [at the new facility] allows us to do is in-store training. We did this on March 22–23 when we officially celebrated our grand re-opening. We saw a couple of hundred people over those two days."
In addition to face painting, a moon bounce house, and "fabulous pit beef" cooked by the husbands of Hamilton and general manager Patricia Webb, the company had four educational seminars. "Some of our stellar customers who are also respected service providers acted as keynote speakers on industry topics," says Hamilton. "Ken Anderson of Big Foot Power Wash gave a seminar on wood preparation and staining. Mike Goeller of Brightview Cleaning educated us on window cleaning as an add-on service and a way to extend your working season through the winter. Our team did an interactive presentation on soft wash and house washing, and our final seminar covered business efficiency and profitability. The feedback from our customers was really positive. We're currently surveying our customers to find out what they want to learn next, and we'll plan according to what they feel will be most beneficial to them."
Hamilton reports that they are also upgrading their IT systems to meet current expectations. "Customers are looking for an Amazon experience, which is not where we are currently. We know we need to meet our customers where they are, which today is on the internet. Customers want to be able to purchase from any of their devices, and a large portion of them are placing orders on their mobile phones daily."
Hamilton sees some challenges to the pressure washing industry as common to other industries as well. "There are constraints on finding good people who want to learn and work hard," she observes. "Unemployment is low, and customers say they can't get enough good help."
Tariffs are having an impact on the business as well; Hamilton reports, "Price increases are 5–10 percent across the board on equipment. In some cases, we are still seeing fuel or energy surcharges from suppliers that were implemented years ago when fuel costs were up over $4.00 a gallon. The US's tougher stance on Iranian oil and the impact on gas prices will likely have a less-than-positive effect on our customers who use gas-powered pressure washers.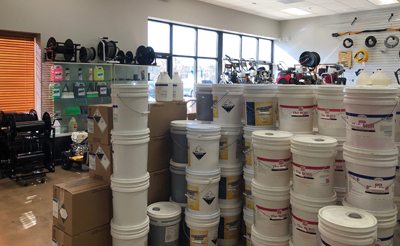 "Our local customers also face challenges related to Chesapeake Bay conservation. Reclaiming water is becoming more important in the face of regulations, and many contractors are being asked to block sewer drains in addition to reclaiming water. Chemicals are also frowned upon, and contractors are being asked to minimize or refrain entirely from chemical use. All of this makes getting the job done a little harder and more expensive for the end customer.
"Dirt Killer's wholesale business has a different demographic. Whereas traditional high flow pressure washer sales may suffer because of water restrictions often put into effect in areas more prone to drought, these conditions can actually promote sales of the Kränzle units. The Kränzle units we sell are lower flow and lower psi, but they are sold with the original rotary nozzle. The patented rotary nozzle doubles cleaning units. Thus, it's perfect for drought-prone or water-restricted areas."
"When in an industry relying on natural resources, regulations and conservation play an increasing role. Some of our biggest concerns are water, fuel, and chemicals. We will have to do better, and the companies that do it better faster will likely be the most successful," predicts Hamilton. Atlantic Pressure Washers is aware of the challenges and is aiming to be ahead of the curve in meeting financial, environmental, and regulatory challenges while improving their response to customer needs.