A Letter from the President of CETA
Published November 2021


D
ear Colleagues:
     It has been a privilege serving as the president of CETA for the past year. We will remember 2021 as a year of new beginnings and recovery. CETA has risen to the occasion and worked hard to continue in strength and to carry forward in the industry to produce success.
     In looking back, there are successes I would like to bring your focus and attention to. As of this letter, CETA University has had their first virtual seminar on supply chain challenges, which has and continues to affect our entire industry. Other virtual meetings are being planned to discuss industry topics.  
     CETA Technical has had two main focuses this year. THC335H is currently in the process of harmonizing U.S. and Canadian standards so the manufacturers would have one standard for both countries. NEC2020 (National Electric Codes) has updated the requirements for GFCIs which will be incorporated into the current standards as well as the harmonized standard. This group is very active and has been having virtual meetings bimonthly for three hours, two days during the week. 
     CARB (California Air Resources Board) has been actively working on stricter emission regulations, basically asking for zero emissions.  This could restrict the sales of engine-powered products into California as well as other states that may adopt the California standard. The EPA will follow suit. We encourage our suppliers and manufacturers to evaluate alternative fuels and designs, much like the lawn care businesses have done. This includes switching from engine-powered equipment and electric corded to battery powered. The change has already started with weed eaters, push mowers, and riding mowers.
     It is still my prediction that higher-efficiency heating will also become a requirement. 
     CETA, working as a united team, adds strength and power in working on these new challenges. CETA members, continue working.
     The CETA Education Foundation changed its name to the CETA Scholarship Foundation to focus their attention solely to providing scholarships for the members of CETA, their employees, and families.  To date they have given 143 scholarships over the past 24 years. Thanks to Lease Consultants and others who consistently donate funds to make this benefit possible. 
     The vision, focus, and work of CETA has paved the way for companies such as American Pressure Inc., the company I represent, and many others to achieve success. We will see this work ethic carry us into the future. I am truly honored to have served as the president of CETA. The CETA Board will continue doing their part in the industry to face the challenges and the future.
     I believe the best is yet to come. 
     Serving as CETA's president has been a great blessing. 
Sincerely,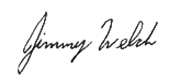 Jimmy Welch