Cleaning Exterior Marble And Monuments
by Terri Perrin / Published August 2023

GEOGRAPHICAL CONSIDERATIONS
Whether it is used in interior design or historic monuments, marble is a natural stone that has been highly prized by architects for its beauty and durability for centuries. This article will focus on exterior installations.
While it can be found all over the world, the three most significant marble quarries in America include Yule Marble Quarry, Colorado; Danby Quarry, Vermont; and the Alabama Marble Belt, where some of the world's whitest and purest marble is quarried.
The USA is the largest importer of finished marble products and granite in the world. California and Texas import the most with Florida, Georgia, and New York rounding out the top five. In addition to these five states where marble construction is more predominant, all levels of government everywhere traditionally make significant use of marble in construction.
From expansive courtyard patios to graveyard headstones to towering historic structures, opportunities for cleaning marble span the nation. Regardless of where you operate your pressure washing business in North America, there will probably come a time when you are called upon to clean marble and/or monuments. You need to proceed with caution.
Typical Job—Historic Preservation and Pressure Washing
Be aware that most public and privately owned historic buildings and cemetery grave markers are closely monitored by state, local, or national preservation organizations. Always verify the restrictions that apply to alterations, including cleaning in such structures before accepting or planning a job. You will find more information at www.PreservationDirectory.com.
Be aware that some large historic buildings and monuments may incorporate several different types of materials. A cleaning method suitable for marble may be destructive to adjacent surfaces and vice versa. Thus, all jobs require a careful analysis of component materials.
Patina, for example, is a green film that forms naturally on copper and bronze by long exposure to the elements or artificially by using an acid wash. The patina color is valued aesthetically as part of a historic building's character, and your client may not want it altered. Many preservationists want the green-blue crust formed from oxidized bronze or copper to be retained.
It is always recommended that you protect any surface you do not intend to clean to prevent possible adverse reactions. Prior to the start of any full-scale cleaning operation, establish the best protocol for the project. This should include prewetting or covering vegetation, removing historic hardware, ensuring a steady source of available water, and determining the required access equipment (ladders, scaffolding, lifts, etc.) if needed.
You must also follow environmental protocols—including wastewater collection—and worker health and safety regulations.
Pre Testing is Imperative
Even when responding to requests for proposals (RFPs) that are specific in how marble should be cleaned, test first. Do not rely on someone else's assessment. Never accept a "just-try-it-and-see-how-it-works" directive from your client.
Cleaning marble is a deliberate process. Not only must stains be identified, but you must determine if there are other elements that might not be immediately obvious, such as sealants that may interfere with the cleaning agents used.
Performing test patches in an inconspicuous area is imperative to determine the best cleaning methods. Recognize that no two restoration jobs are exactly alike. Know what type of stone you are working with and what type of soiling or staining needs to be removed. In addition to naturally occurring soil, you may come across environmental pollution, bird droppings, graffiti, mildew, residue from fungi and algae, urine (and other) stains, and oxidized material derived from adjacent building components such as metal fixtures, etc.
Investigate to know what you are dealing with and how it got there. Was it naturally occurring or human intervention? Much information in the discovery process can be derived from visual inspection as well as records from current and previous building owners. Your pre tests will help you determine the types of chemicals needed (if any) and the pressure required.
A 40-degree nozzle should be used during the rinsing process as it provides the correct spray pattern. Don't use zero-degree, 15-degree, or rotating zero-degree nozzles. The actual psi will be determined by the type of substrate you are working on. Never use more pressure than required.
Testing will also help you determine the appropriate dilution levels and dwell times and indicate which products are needed to remove particular stains. Chemicals must be a match for the stain and for marble. The chemicals used successfully on other substrates may be entirely unsuitable. Fluoride salts, for instance, will interact with the calcium in the marble. If in doubt, ask your chemical supplier for guidance.
Yellow discoloration on the face of the marble, for example, has many causes, including changes in coatings on the marble surface and oxidation of iron oxides in the marble, provided the surface has not been previously cleaned or sealed. Always use the gentlest means possible.
Moderation is the word for water pressure. A maximum range of 500–600 psi, supplemented with chemicals when needed, is a good compromise. A water wash supplemented with soap and manual brushing with a soft bristle brush is often the gentlest approach.
Proprietary restoration products such as OneRestore® or Heritage Restorer® are good for removing soil, paint, and deep stains. They generally work fast with dramatic results. In all cases, the use of abrasive brushes, high psi, and strong chemicals are strongly discouraged. Neutralize as needed, and use pH paper to ensure effectiveness of rinsing and neutralizing.
Techniques That Work Best
Systems that employ the use of copious amounts of water should be avoided. Water should be used to prewet and rinse as needed. The actual protocol will be determined during the testing process.
Hot water is not normally necessary.
Both alkaline- and acid-based materials can produce desired results, de-pending on the needs of each project. The products should be safe for the surface, the end user, and the environment.
Know the material you are working with and the cleaning objective. The highest recommended pressure for historic buildings is 1500 psi, but it should be used rarely, if ever. Great results can be accomplished with smaller equipment, and the lowest psi and gpm combination possible.
Use chemicals and processes which provide the release and solubilization of stains or soils on the surface.
The amount of time needed to achieve clean will vary with the substrate, air, and wall (surface) temperature as will the dwell time and number of applications needed to achieve the desired result. Rinse thoroughly with clear water as the final step.
Sealants are not normally needed on natural stone. However, if the stone is located in a high-touch zone or an area where graffiti tags are common, sealants may need to be considered.
Exceptions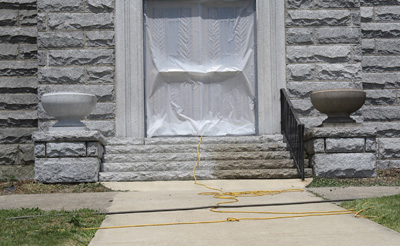 Although abrasive cleaning is not appropriate for marble or most related building components, it is an accepted method for the cast- and wrought-iron components that may embellish a largely marble structure. Marble must be protected if abrasive cleaning, such as sandblasting, of related components is needed. Some components, such as cast-iron light fixtures, can be removed to be cleaned at another site. Off-site abrasive cleaning is the best choice for removable items.
Soda blasting of historic buildings is sometimes done as part of rehabilitation or refurbishment projects. This is separate from cleaning.
The use of abrasive cleaning methods, including laser technologies, should be avoided because they can cause irreversible damage to historic material and details. This could remove the top surface of the stone, opening the pores of the substrate, which causes the surface to absorb soils and discolor quicker after the restoration process has been completed.
EQUIPMENT AND SUPPLIES
A cold-water pressure washer capable of 600 psi (1500 psi unit) and a water reclamation system will be universal.
Test patches will dictate specific types of chemistry needed, as well as the required equipment, nozzles, and personal protective equipment.
The size of the structure will indicate whether equipment for high-rise work, such as lift or scaffolding, is needed.
The U.S. General Services Administration (GSA, www.gsa.gov) has an extensive library of technical procedures that apply to removal of specific kinds of stains from marble. You can start there when seeking information.
How to Bill
Build estimates based on the type of cleaning and equipment that will be needed and include the testing time.
Many marble structures are owned by entities—such as trusts or governments—that issue requests for proposals (RFPs). Respond carefully to any RFP. Take the time to verify that the building has been inspected carefully and the methods outlined by the owner are appropriate.
Ancillaries
Concrete sidewalks or promenade areas near marble buildings and monuments may benefit from cleaning. Because proper cleaning of marble and monuments is a niche business, be sure to demonstrate expertise in marble and monuments as a first priority.
Always take into account when working on a vertical surface how the base of the building is situated to the horizontal surface it is adjacent to—for example, this can be concrete, mulch, or soil. It matters because you will need to take into account the runoff as well as how the products used in the cleaning process might affect the adjacent surface.
Problems to Avoid
Water can damage the marble exterior of a historic building. Check the pH and trace elements in the wash water. (Trace elements may result in rust stains.)
Be careful not to force or direct water into interior spaces. Water that comes in contact with metal anchor joints in masonry walls, for example, may cause them to swell and spall the face off the masonry unit.
Know what can and what cannot be done. Yellowing caused by oxidation in marble is part of the aging process and may not be reversed. Yellowing caused by deterioration of coatings and waxes calls for a removal of the coatings and then another polishing or honing of the stone.
How to Fix Mistakes
The first rule is to "do no harm." A bit of ill-considered cleaning can wreak havoc on an historic building. Before starting a job, examine the entire structure carefully. Look closely at roughened or deglazed areas that might be problematic and make notes of them to the client. Take pictures before and after of any area that might pose difficulties. The before photos can be used to remind a client that problems were foreseen because trouble spots predated the cleaning.
Deborah Spik is the chemist and plant manager for New Castle, PA-based EaCo Chem Inc. She has worked in this industry for 36 years and holds a bachelor's and master's degree from La Roche College and has master's degree credits from Carnegie Mellon University. The main focus of her work has been to develop chemistry that is both safe for the environment and the worker, while replacing harsher chemicals currently being used in the industry.
EaCo Chem Inc. is a leader in developing powerful brushless cleaning solutions for the masonry, construction, and transportation industries. EaCo Chem's restoration products include OneRestore® and Heritage Restorer®. Visit www.eacochem.com for a complete product list.