ITD Chemical, Inc.
A New Era Guided by Deep Experience
By Diane M. Calabrese / Published November 2021

Take the expertise of someone with experience in healthcare, private equity, and chemical and parts manufacturing, who is new to pressure washer and chemical sales. Couple it with the experience of an individual who entered the pressure washer industry at its inception. Expect the connection to be a catalyst for good things.
     Joseph Daniel, the owner and CEO of ITD Chemical, LLC, bought the company from Dan Kidd in September 2020. Merrill H. Fox, who serves as national sales manager for Daniel, has been with the company since 2014.
     Deep experience for Daniel crosses many industry sectors. Fox began working in pressure washer and chemical sales 49 years ago. Each man has a unique vantage.
    Daniel was co-owner and CFO of a company in the healthcare industry until 2019. He worked for a private equity group out of Atlanta prior to that.
     At the equity group, Daniel focused on acquiring and advising U.S. industrial manufacturing companies. "There I spent a lot of time and effort specifically in chemical and various parts manufacturing, which is where my interest in chemical manufacturing originated," he explains.
     "ITD is different from what I've done before because I am the sole owner and plan to build the company for the long term," says Daniel. "It's been run as a closely held family company."
     Fox has been in the industry since 1972 when he began working for his father, a distributor of some of the first pressure washers. He says his father knew that chemical sales were going to grow along with the sale of pressure washers.
     In the mid-1970s, Fox worked on the contractor side of the industry, serving the Boston area through his company Fox Power Wash. In 1978 he sold that business, moved to Florida, and launched a distributorship, which he sold in 2007 before joining Pressure-Pro, a switch that put him on the manufacturing side of the industry. His seven years with the Sunshine State company saw him rise to territory manager for the Northeast, parts of Canada, and four states in the Midwest. [See sidebar for reminiscence by Fox.]
Reminiscence-Merrill F. Fox

"My mentor was my father, who set standards for developing sales," says
Fox. He recalls the "first small electric pressure washers that sat on the top of 55-gallon drums" that were given away with chemicals. "At a young age I observed the advancement of the pressure washer."

Fox trained with pioneers in the industry, including Homestead Industries (Jenny) and Malsbary in the 1970s as well as Consolidated Chemex (two-step washing) and L&A Products.

"Truck washing, heavy equipment cleaning, building exterior restoration,
graffiti removal, restaurant/food handling facility cleaning, you name it…I cleaned it," says Fox of his contract cleaner days.

Complex cleaning problem? Fox developed solutions for cleaning everything from factory ceilings to tunnels in Boston.

The size and capabilities of pressure washers, as well as the changing nature of chemicals, have been fascinating to witness across nearly five decades, says Fox. With the refined match between chemicals and machines, pressure washers have become true labor-saving devices. Soft washing is a stellar example.

"The biggest change that I see is that the distributor that stocks, provides demonstrations, and is able to resolve complex cleaning problems rules the roost," says Fox. They are not threatened by online marketers.

"My entire career has been a highlight—observing the birth of a pressure washer, cutting my teeth as a pioneer in the contract wash industry, having a distributorship for 29 years, working for a pressure-washer manufacturer, and now working daily with the chemicals that make a pressure washer better," Fox relates. "It has been a great ride that I have enjoyed, and one that continues better than ever."
     Daniel also got an early introduction to business from his father, who was an entrepreneur and business owner (like his own father). His father still operates a pallet business he started while in his twenties.
     "The best preparation I had for what I do now was learning from my father throughout my childhood and early career," says Daniel. "Running and growing a business is not something that can be learned in school or from reading books. It has to be absorbed deeply for a long period of time before you really get it."
     Daniel believes he absorbed his father's (and grandfather's) lifestyle and work ethic, which gave him the essentials to be a business owner. "Outside of that, I was fortunate early in my career to have been exposed to 100s of mostly growth-oriented small- and middle-market companies and to have worked very closely with 10 or so." He applies the knowledge gained every day.
Reciprocity
     What happens when a new entrant and industry veteran become colleagues? They learn from each other. 
     Fox says that Daniel brings "a new, fresh approach and capable eyes to the industry." He sees a drive in his boss like the one that has driven him. It begins with the quest to act on new ideas and "reach new heights"—a focus that is "invigorating" for all. 
     Daniel describes Fox as "a true sales professional with highly developed skills in managing relationships and solving problems for customers." Responsiveness and solving problems for customers sum up what is collectively the highest priority for both men.
     The whole industry knowledge Fox brings is important, says Daniel. "He loves bouncing around ideas and ultimately helping our distributors build a quality chemical program that should be the cornerstone of profitability in their businesses."
     Because Fox has been able to provide insight into how distributor partners think and what is most important to them, Daniel has been able to quickly learn the critical needs and wants of customers. From there all else follows.
     "My business philosophy revolves around people," says Daniel, adding that the associates inside his company are the most important people. "Without them we can't deliver a quality product or service to our customers."
     People teaming up to solve problems for customers—that's how Daniel sees a company. Absent a team, there is no company, he explains.
     "We treat people with respect and give them an exciting, promising place to work, and they commit to serving our customers with passion day in and day out," says Daniel. Building personal relationships with customers and recognizing distributors are "true partners" results in mutual success in business. 
     Daniel says a highly responsive customer service experience is a must, and one he is pushing to new levels. He believes in owning and fixing mistakes "quickly and painlessly."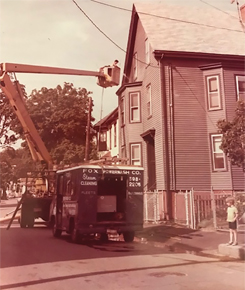 Restoration, not debate, is the procedure should an error occur. "We will make it right without a fuss and without delay," says Daniel.
     Fox's philosophy of selling is a good fit within the responsive team that Daniel has built. Knowledge and belief in the product line are core elements of his outlook. 
     "The customer knows when he wants to buy," says Fox. It's his responsibility to make sure the customer understands why the product will sell and the benefits and savings the product offers.
     "The biggest challenge is to educate the sales/service companies that do not sell chemical," says Fox, "to respectfully make them aware that a good chemical program will yield the best residual income to their business."
     Distributors bring the need to ITD, says Fox. "And we will have or create the product for them. We give them the needed product to compete."
     For example, distributors can choose from among eight softwash products. "The products cover every need," says Fox. 

Dynamism
     "The building blocks of a solid company were here when I arrived," says Daniel, crediting Dan Kidd for establishing a "wonderful company." It has given him the opportunity to push harder, ask more difficult questions, make investments, and build infrastructure for more rapid growth. 
     Updates to methods and new hires have all been put in place to build a team for the company's next phase of growth, explains Daniel. A highly interactive customer website is also in the works. 
     The biggest challenge after acquisition has been supply chain disruptions, which became a reality for all companies starting in 2020. "However, there is always a benefit to facing difficult circumstances, and we will undoubtedly emerge from this period as a stronger company, both in our internal processes and in our breadth of sourcing capability," says Daniel. 
     "Our focus at ITD will remain much the same over the next two years, only with more energy and passion, a broader team of high-quality people, and an increasingly innovative product line," says Daniel. "We are developing a significant number of new products and will continue doing so so that our distributors have all the tools they need to grow and compete in their various markets.
     "The core of our business is serving pressure washer distributors, but there are still a good many whom we don't work with," continues Daniel. "While we can't expect to work with every customer in the industry, I do expect that as we become more present and our value proposition is made clear to more distributors, we will grow in our core market."