Mi-T-M Corporation Celebrates Milestone Anniversary
50 years of "Performance Under Pressure"
By Terri Perrin / Published August 2021

When it comes to having roots in the community of Peosta, IA, A.J. Spiegel, the founder of Mi-T-M Corporation, has roots that run deep. He was born and raised on a farm one mile north of his company's current one-million-square-foot manufacturing plant and distribution center. From an early age, Spiegel was an active participant in the day-to-day operation of the farm, and, like most farm kids, he learned the value of hard work from a young age. He also learned that ingenuity is a necessary ingredient for success. Spiegel grew up learning not to dwell on problems, but rather to focus on solutions … and that's how Mi-T-M Corporation came to be.
     "It was the late 1960s, and after graduation from high school, A.J. had worked in construction and jobs at Flexsteel and John Deere. He was ready for a new challenge," explains Mi-T-M's marketing manager, Karen Anderson. "In 1968, he started a painting contractor company that utilized spray equipment. Soon after, pressure cleaning became a big part of his painting business."
     Back then, pressure washers were called "water blasters," and there were no units smaller than 10,000 psi. These big machines were great for large industrial cleaning applications but too powerful for the smaller jobs. Over the winter of 1969, A.J. set out to design a more compact and mobile machine. After months of researching the best pump, engine, and frame to mount it all on, and thousands of hours of adjustments for the right horsepower, gear reduction, and pulsation dampener, his—and the industry's—first 1,000 psi pressure washer had been designed and engineered. He named it the "Mighty 1,000."
     "A.J. wanted a unique name for his new machine, one that was easy to remember and quick to write down," says Anderson. "He decided to use the Roman numeral 'M' to signify '1,000 psi' for his invention. That's how the idea for the name 'Mighty M' was born and then adapted to 'Mi-T-M.' It wasn't long before the new machine caught the attention of others in the industry. The time invested in the product paid off. Soon after, he received his first order for a Mighty-M."
     Over the next 50 years, Mi-T-M Corporation would grow to become a leading designer and manufacturer of high-quality industrial equipment, including water pressure washers, air compressors, generators, and more. With a current staff of over 450, an inventory list of hundreds of products, a dealer network of about 250, and hundreds of other customers across North and South America, Mi-T-M has made a name for itself and, in doing so, led the industry in a new direction.
In 2012 Mi-T-M's founder, A.J. Spiegel, was honored with the Cleaning Equipment Trade Association's (CETA) Lifetime Achievement Award. It was a fitting recognition of a colleague who personifies the characteristics of the organization, its membership, and past award recipients.
The Early Years—1971 Through 1995
     Mi-T-M Corporation was officially founded in 1971 and incorporated in 1973. Some major milestones from the early years included moving into their first 5,000-square-foot facility, securing their first private-label customer (Rubberset), and hiring a manufacturer's representative group.
     By 1978 an ever-expanding product line necessitated a move to a new facility that was four times larger. In 1983 they introduced the company's first stainless-steel hot water pressure washer. In 1984 they welcomed John Deere as another major private-label customer.
     Product diversification continued, and in 1986 they added 24,000 square feet of space to their existing facility. Even this building would soon be outgrown. In 1995 Mi-T-M built a brand-new 260,000-square-foot manufacturing facility. They would remain there until the current location, almost four times the size, was constructed in 2014.
     Two highlights during this time included supplying equipment to help with the Exxon oil spill in 1989 and supplying 3,000 pressure washers to the U.S. military for Operation Desert Clean, following the cessation of the Persian Gulf War (Operation Desert Storm), in 1991.
     While their ever-expanding product lines and focus on quality were key drivers to the ongoing success of Mi-T-M, Spiegel is quick to give credit to Mi-T-M's employees.
     "The most important thing to me has always been our people," says Spiegel, noting that the emphasis cannot be made often enough. "We established relationships that have grown and endured from the earliest days of Mi-T-M. Our workers take pride in the jobs they do. They are the heart of this company."

MI-T-M Gives Back

A.J. Spiegel was born and raised in Iowa and has been instrumental in the growth of the local community. In 2004, Spiegel donated the land and the structure for the Peosta Community Center. The 60,000-square-foot facility offers basketball and racquetball courts, a walking track, an events center, and much more.

Spiegel was also a key player in helping to develop an industrial park in Peosta as well as assisting with the recruitment of new businesses to the town. Fundraisers of many sorts have long been a priority for him, and he welcomes the role of both sponsor and contributor.
The Second Quarter-Century—1996 Through 2021
     With the relocation to their second facility came more opportunities for growth. In 1995 a fabrication division was established. Over the years, the manufacturing of air compressors, generators, and STIHL products was added.
     Securing patents was also important during this time in Mi-T-M's history:
1996 patent for the first vertical pressure washer design and a vertical shaft pressure washer coupling assembly
2000 patent for the CWC series pressure washer design
2008 patent for a vibration dampener design.
     Acquiring certification with the American Society of Mechanical Engineers (ASME) in 2007 and obtaining ISO certification in 2008 were also considered to be major milestones.
     For their industrial line, the company focuses on direct to dealer sales in the rental industry, including Home Depot, Sunbelt, and United. All of the big paint brand names are on their client list, and they are proud to have worked with W.W. Grainger since 1998 and Sherwin-Williams since 1999.
     A residential/commercial line is made specifically for the hardware market. Distributors include Ace, HomeWorks, Theisens, and True Value, to name a few. For the construction industry, Mi-T-M sells to HD Supply and White Cap as well as other small businesses that sell gasoline-powered equipment.
     Mi-T-M equipment is engineered by one of the leading engineering teams in the industry. This team consistently establishes industry standards through the development of patented technological designs and, through years of hard work and dedication, has helped Mi-T-M become a certified testing facility for CSA.
     Because of their commitment to producing the highest quality products possible, their quality assurance team follows each part from the initial fabrication to the final assembly. They work directly with component manufacturers to make sure they follow strict requirements for quality.
In 1991, following the cessation of the Persian Gulf War (Operation Desert Storm), Mi-T-M supplied over 3,000 pressure washers for Operation Desert Clean.

Middle Photo: Mighty 1000.
2021 and Beyond
     This year Mi-T-M Corporation celebrates 50 years of innovation and commitment, not only to the equipment they build but to the customers they serve, the people they employ, and the communities they belong to. Peosta is still home to Mi-T-M, and Spiegel still leads the company and its (now) 450 employees.
     Customer service remains a pillar of the business, with innovative programs to support their customers.
     "The Hub," for example, is a cloud-based portal on the website where Mi-T-M customers can log in 24/7 to access equipment specification sheets, price guidelines, images, and how-to videos— whatever distributors might need to sell the equipment and/or enhance their websites and marketing efforts. Mi-T-M's marketing department also offers customer assistance, such as developing and printing flyers, banners, and other promotional materials. They even purchased a four-color production printer to produce high-quality marketing materials in-house for their customers. This effort ensures consistency in branding but, more importantly, provides much-needed support to distributors.
     Considerable effort has also gone into producing the 40-plus demonstration/how-to videos on their website. Every spring/summer they create more videos to showcase their products.
     Spiegel's entrepreneurial influence is ever-present in the extensive Mi-T-M product line, and the hard work and dedication of their people over the decades deliver a powerful message:
We're dependable, no matter what, and we do whatever it takes to satisfy our customers' needs.
This is our brand. It is the essence—the heart—that runs through Mi-T-M.
It is our reputation, our commitment, our uniqueness.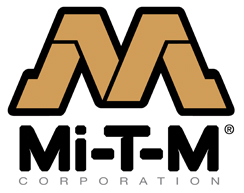 "The pandemic put our plans for our 50th anniversary celebrations on the back burner for a while," concludes Anderson. "We would still like to do a company-wide event when public health orders allow. The Mi-T-M success story is still being written, and that's something to celebrate. New equipment designs are on the drawing board, and new customers are around the conference table. Performance under pressure—it's everything we stand for. It is who we are and what we do. And, it goes into everything we build."
     Here's to the next 50 years, Mi-T-M Corporation!