Pressure Washer's Guidebook: Residential Cleaning: Protecting Your Customer's Property
Contributors: Beth Borrego, vice president and Rod Rodriguez, president (BB/RR) Owners, See Dirt Run! Inc., Germantown, MD, John Tornabene (JT), Owner, Clean County Powerwashing, Kings Park, NY

Editor's Note: This entry contains some information from three chapters in the 2002 Power Washer's Guidebook (PWG): "Brick Cleaning—New Construction" written by Steve Stephens, Hydrotech; "House Washing" written by Tom Burns, All Ways Clean Manufacturing, and revised by Manzie Lawfer, Blue Skies Pressure Washing and Jonathan Whitt, Lynchburg Pressure Wash; and "Paint and Coatings Removal" written by Lance Nord, Phoenix Environmental Services.
Geolographical Considerations
Surface features (substrate, slope, and bodies of freshwater around a dwelling) and latitude (season) are just two of the geographical considerations contractors must consider when protecting residential property.
BB/RR: The Chesapeake Bay Watershed is a consideration where we are. You may not discharge to Bay tributaries.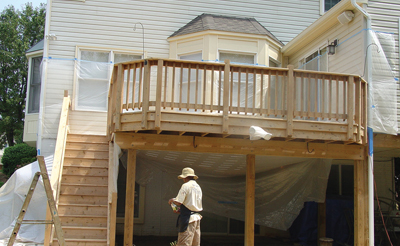 JT: If you are washing in the winter months, here is where you have to make sure your water doesn't end up causing a skating rink on the walkways, driveways, and roadways. There were a few times over the years that we had to salt down some areas that started to freeze after we washed.

PWG: Know the requirements (locally applicable regulations) for testing for lead and asbestos prior to washing. Even when coatings are not being removed, contractors may be required to test first—and pending a positive test alter their wastewater disposal methods to meet the requirements for hazardous materials.
The most commonly used construction materials for exteriors of homes vary by region of the country. Con sequently, a contractor who almost always cleans vinyl sided houses should pause and reevaluate their technique before cleaning a brick house, for example.
Typical Job
BB/RR: As a wood-care company, much of our prep time is spent protecting the customer's property against sealants. This includes siding, personal effects, and plants.
Spray shields are also very important; they may be metal or even as simple as cardboard, which is an old contractor's trick.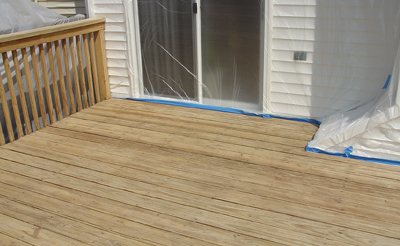 Protecting the customer's property also means protecting people in the area, so keeping people away from the work area is important. Keep pets away, too. If it is commercial work by nature of a mixed use area or house adjacent to a dentist's office, cones and caution tape, hard hats, etc. will be needed.
JT: We rinse a lot. We haven't killed a plant in at least 10 years now because we oversaturate all plant life that's near the area where we are cleaning.
PWG: Do the basics, such as ensure the customer's car and the neighbor's car are a safe distance from spray. Also, identify and protect outside fixtures and ornamental flourishes, especially those made of copper and brass. And match the cleaning method to the composition of the exterior, which may be hard or soft brick, wood, cedar shake, aluminum, vinyl, etc., or some combination of material.
Techniques That Work Best
BB/RR: If contractors are washing, then things like rinsing, berms to divert water from areas like ponds or streams are all common. You can't easily cover when washing because one gallon of water has a weight of eight pounds. and that can crush plants. Also, plastic and tape don't hold up to washing.
Other protection comes into play, especially when sealing decks, painting, etc. Then you will find things like drop cloths, plastic, and blue tape to mask windows and doors, light covering over bushes, and plastic over fish ponds becomes important.
JT: One key to success is rinsing, once again. We clean anything from parking garages to houses and most everything in between. Rinsing is key for us, especially considering we use a higher chemical cleaning solution than most.
Exceptions
BB/RR: Aluminum siding is easy to damage during an average house wash and should be treated with care. Some caustics will remove the finish, leaving bare metal.
JT: A cedar shake house requires more care when we're cleaning a roof. We also do wood restoration, so we know how sodium hypochlorite (bleach) can affect the cedar if you get sodium hypochlorite on it, so be a little more cautious here.
Equipment and Supplies
BB/RR: Spray shields, plastic, blue tape, tarps—all of these are necessary.
JT: We carry everything we need in an 18-ft. trailer.
PWG: Depending on wastewater collection and disposal requirements that apply to the jurisdiction, a contractor may need a truck to haul away wastewater in addition to a system for collecting the wastewater. Equipment and supplies related to protecting the customer's property are in addition to those demanded by the specific job, which include all personal protective equipment (safety glasses to proper footwear).
How To Bill
BB/RR: We include masking supplies in the cost of our service line items automatically. Typically, the protection is viewed as a prep step before performing the work.
JT: The only thing we charge more for on residential is when we stain houses. If the homeowner wants the house brushed instead of sprayed and back brushed, then they will pay more for the brushing only.
Ancillaries
Protecting the property of a residential customer is an integral part of the job.
PWG: Many homeowners still have poorly caulked windows. The absence of caulking is something that the contractor is likely to notice when washing (and special care must be taken around poorly caulked windows). With conservation of energy taking more and more priority, offering a service to re-caulk doors and windows as part of cleaning is a possible ancillary.
Similarly, a contractor may notice areas of poor drainage near the foundation. If the homeowner would benefit from gutter extenders, it would be an easy add-on service to provide. Some contractors add gutter cleaning and installation to their business, as well; and the emphasis on protecting the home long term is a good way to sell such an ancillary.
Problem Areas To Avoid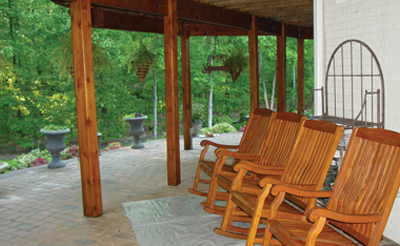 BB/RR: Window damage from improperly masked, shielded, or cleaned windows is a potential problem. Chemicals can harm windows so be sure to pre-wet and rinse. Protect screens and windows from overspray by masking them. If there is a koi pond, cover it and protect the fish.
JT: First and foremost, if a contractor doesn't keep plant life wet and rinse, rinse, rinse, he could very well kill plant life when he applies sodium hypochlorite to a house. Also, not tarping plant life when spraying a stain on a house can also kill some plants if they get saturated with stain.
PWG: If working on new construction, cover untreated exterior doors because if untreated doors absorb water and chemical, the adhesion of coatings will be affected. Do not spray water into louvers or foundation vents. Take care to seal off sliding glass doors. Do not use the same pressure on wood trim around brick as on the brick. In other words, adjust technique according to the design and construction of the dwelling.
How To Fix Mistakes
BB/RR: If you break it, buy a new one. If it can be repainted, do it. Whatever you do, do not just pretend it didn't happen.
JT: Wind can cause havoc on any jobsite. Be sure to rinse anywhere and everywhere if a gust of wind carries spray while applying cleaning solutions.
See Dirt Run Inc., which is owned by Beth Borrego and Rod Rodriguez, has been in business since 1999 and specializes in high-end wood care.
John Tornabene has been running Clean County Powerwashing (www.cleancounty.com) for 20 years. He has served PWNA and UAMCC in numerous capacities.